Nelson Bay Diving Weekend Away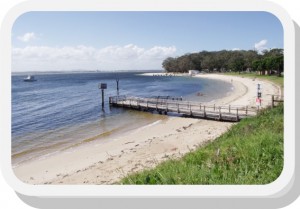 The Perfect Spot For A Weekend
The Location – Nelson Bay is situated in the beautiful Port Stephens area approximately 2 ¾ hours drive north of the Sydney CBD.  The accommodation is opposite Little Beach, one of the shore diving sites.  It is a few hundred metres south of the Halifax diving site and a few hundred metres north of the Fly Point diving site. It is approximately 2 km to the Marina, Nelson Bay CBD and The Pipe diving site.  Boat trips depart from the Marina or The Anchorage.  Boat dives are made to the islands and wrecks outside Port Stephens, all less than an hour away by boat.
The Diving – There are a variety of boat and shore diving locations.  Broughton Island is a dive site well known for Grey Nurse Sharks and the Looking Glass.  Other island dive sites include the lesser known Fingal, Cabbage Tree, Little and Boondelbah Islands.  Wrecks include the Oakland and the Macleay. Shore diving in the bay is done at the reknowned sites of Halifax, Fly Point and the Pipe Line.  The Little Beach dive site is directly opposite the accommodation.  Ocean sites are at Boat Harbour and Government Wharf, Fingal Head. The flora and fauna of the dives is extremely diverse.  The bay provides great macro photography opportunities with many species of nudibranchs, sponge crabs, shrimp, sponges, anemones and many other families.  There is also a broad range of fish from small and colourful tropical to very large fish which are rarely seen around Sydney now.  The bay has a variety of sharks, rays and eels as well as octopus and cuttlefish.  Outside Port Stephens the grey nurse sharks can be found in large schools.

The Accommodation – A three bedroom apartment offering combinations for 2 couples in their own rooms and 2 singles twin share or 1 couple in their own room and 2 x 2 twin share rooms.  The master bedroom has an ensuite while the main bathroom has separate shower/bath room, toilet and wash room.  The apartment has a full kitchen and laundry with balcony BBQ, flat screen TV in the master bedroom, 42" flat screen TV in the lounge room, CD player, DVD player and Xbox.  There are tree filtered views of Little Beach and the bay which are only 100m across the lawn and road.  The complex has a swimming pool, tennis court and spa, ideal to unwind and warm up after the diving.   In the event that the number of people booking for the trip exceeds the capacity of the apartment then other apartments in the same complex will be hired.  They will be similar, but may not be identical, to the one described above.
Dining – Breakfasts and après diving snacks are included in the package, guests are welcome to use the kitchen or BBQ and there are plenty of dining options available nearby.  Cuisine includes the Wests Diggers club, two blocks from the apartment, and a wide range from Malaysian, Thai and Pizza to a one hat fine dining option.

Other Attractions – There are many attractions in the area which can be undertaken after the days diving.  These include Ray and Shark Feeding, paragliding, waterpark, bobsled park, kayaking, helicopter rides, whale watching, swimming with the dolphins, lunch and dinner cruises on the bay, markets, oyster farm, barramundi farm, ferry trip to Tea Gardens or Hawks Nest, boating on the bay, swimming and surfing, quad bike or 4WD on the sand dunes, horse riding, camel riding, golf, bike riding, fighter world museum, movie theatre, hotels and clubs.
Package – Diving is subject to the prevailing conditions.  In addition to conditions that may affect offshore diving, the bay experiences strong tidal movements and diving must be done near the high tide.  A typical package would include a double boat dive on one day and a guided drift dive and guided shore dive on the other day. The apartment is booked for 3 nights.  You arrive on Friday between 7 pm and 10 pm and have a late departure (5pm) on Sunday so you can shower and stay to enjoy the area after your Sunday dive.  Breakfast will be provided on Saturday and Sunday mornings.  On boat dive days this will be a continental breakfast.  On shore dive days this will include continental and hot breakfast, time permitting.  Snacks will be provided on returning from the dives.  Lunch and dinner not included. We recommend you organise your co-driver, dive buddy and roomie and book together for the best experience.
Price: $270 per person twin share.  Hire gear extra. Non-diving partners welcome at reduced price. Deposit: $100 non-refundable at time of booking If there are less than 2 people booked, the trip will be cancelled.  Trip is limited to 8 people including your host.
Inclusions
1 x Double Boat Dive with second tank included
2 x Guided shore dives
Air fill between shore dives
Snacks and drinks between shore dives and on return from the days diving
Accommodation on a twin share basis for 3 days, 2 nights
All Linen and Bath Towels
2 x Breakfasts, one continental, one hot (time permitting)
Tea, coffee and soft drinks at any time at the apartment
Detailed information can be supplied on request and will be supplied when a booking is made.
Email info@scubawarehouse.com.au to reserve your spot or find out more.