The PADI Junior Open Water Diver course is rewarding and fun, but do bear in mind that it's quite challenging – for the mature child it can be incredibly fun, but do bear in mind that it's not for everyone at this age so it's best to have a chat with us on an individual basis.
The fun part about this course is . . . well, just about all of it because learning to dive is incredible. You breathe underwater for the first time (something you'll never forget) and learn what you need to know to become a certified diver.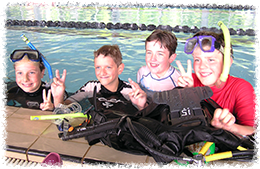 What will we do..?
The PADI Junior Open Water Diver course consists of three main parts:
Knowledge Development (online, home study or in our classroom) to understand basic principles of scuba diving, this consits of five sections.
Five confined pool sessions to develop your basic skills
Four open water dives to review your skills and explore (max. depth 12m)
Please note, at ages 10 and 11 the certified Junior Open Water Diver must dive with a parent, guardian, instructor or divemaster, and between 12 and 14 they have to dive with a certified adult diver.
What do I need to I start..?
Be 12 years of age or above. Diving medical. Your own snorkelling gear and the PADI Youth In Diving Flipchart and Statement signed by your guardian.
How long will it take and what's covered in the cost..?
PADI Junior Open Water – $495 ($395 after e-Learning)
PADI Open Water Crewpack
Certification Fees
Scuba Equipment Hire
Air Fills
Training
What can I try next..?
The course is the same as the "adult" version. On your 15th birthday contact Geo Divers to arrange upgrading your certification to a PADI Open Water Diver able to dive to 18m with a buddy.
Prior to your 15th birthday, you also have the option of taking the PADI Junior Advanced Open Water Diver course or becoming a Junior Master Scuba Diver.
Price $495