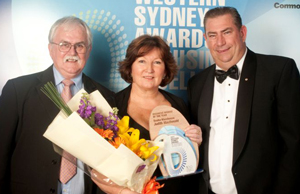 Hi Guys,
Every now and then, something really exciting happens and you simply have to tell everyone about it.
And something happened to us last week.
The Western Sydney Awards in Business Excellence attracted hundred of entries, with judging by a diverse panel of experienced and successful business professionals.
Up against the best of the best, making the finals is itself a sizeable achievement.
Winning an award at this level is impressive.
Scooping the pool with 3 awards is almost unheard of.
And that is what happened to us. 2 Major Category Awards plus 1 of the biggies of the whole event.
Excellence In Education
Excellence In Sport And Recreation
Judith McDonald – Business Woman of the Year 2011.
To be recognized in the categories that are at the core of what we do is an honor and congratulations to our Dive Team and PADI – these are for you too.
For Judith to be awarded the top gong recognizes her dedication to what she does every day and has done every day for most of her adult life – work hard to create the best dive experience possible for you.
Sure, it is a business, and sure, I may be just a bit biased in my praises.
But believe me, they don't just give these things away.
I say great job – well done.